We have a fantastic selection of girls witch costumes for Halloween.  Witches are a classic costume for Halloween night. These witch costumes for girls are just adorable. No scary witches here, only cute ones! A couple of the costumes have skirts that light up. This is not only cute but it's also a safety feature if she's going to be out trick or treating in the dark. There are some great colors here along with the traditional black.  You'll find not only orange but also green, purple, red, hot pink, and brown.
Interesting details include stripes, ruffles, and ribbons.  One of the skirts has rainbow colors and of course there are the pointy witch's hats which you do expect to see in a witch costume.  These are cute, non-traditional witch costumes that your little girl will have fun wearing on Halloween night.  She'll be the most stylish little witch in the neighborhood!  Check out this page full of girls witch costumes for Halloween.
Great Witch Costumes from Etsy
These are handmade girls witch costumes from Etsy.  All of them are tutu costumes which girls love and which provide great photo ops!  Since these are handmade and made to order, you'll want to be sure to order early.  Some of the store owners at Etsy will specify the last day for ordering so you can get your costume in time.  Each listing will also say what all is included with the costume.  Be sure to pay attention to those details and communicate with the store owner if necessary.  Wouldn't your girl just love one of these adorable witch costumes?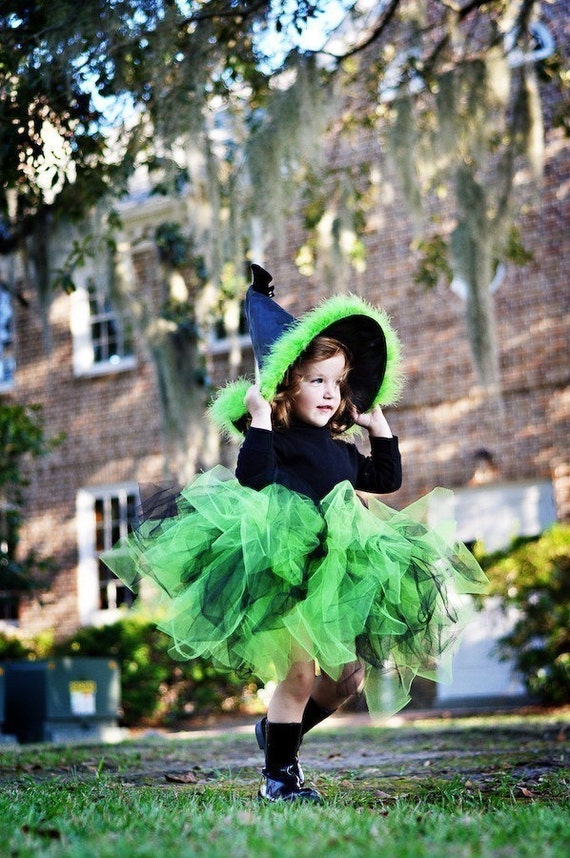 Neon Green Witch Costume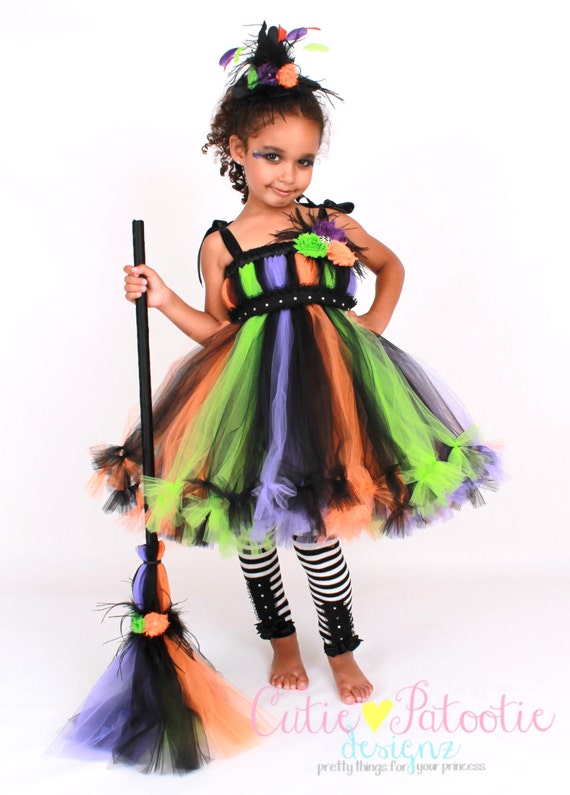 Halloween Witch Costume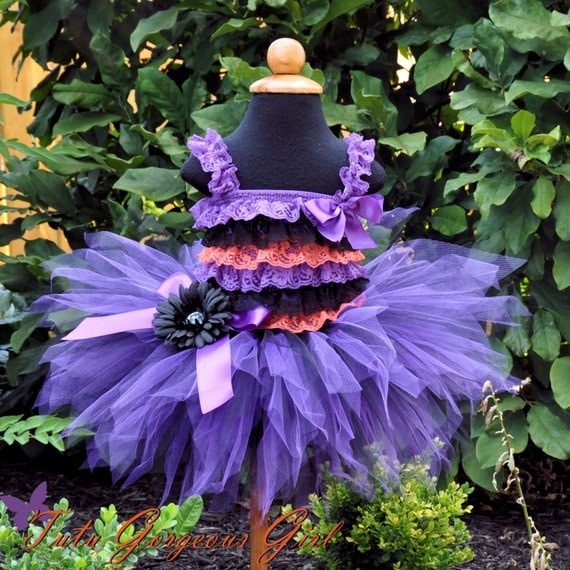 Girls Purple Witch Costume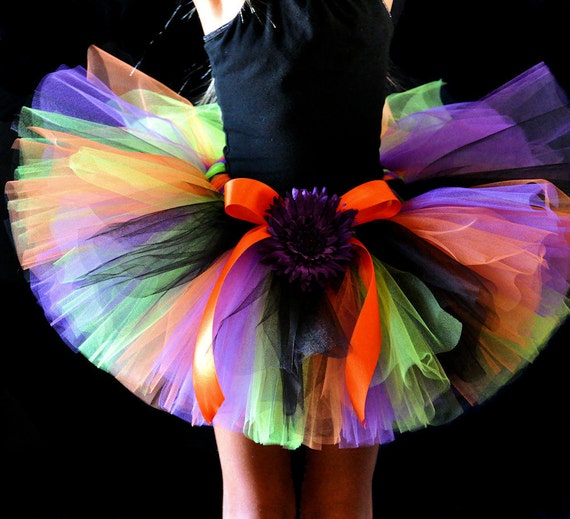 Halloween Tutu…Witch Tutu Costume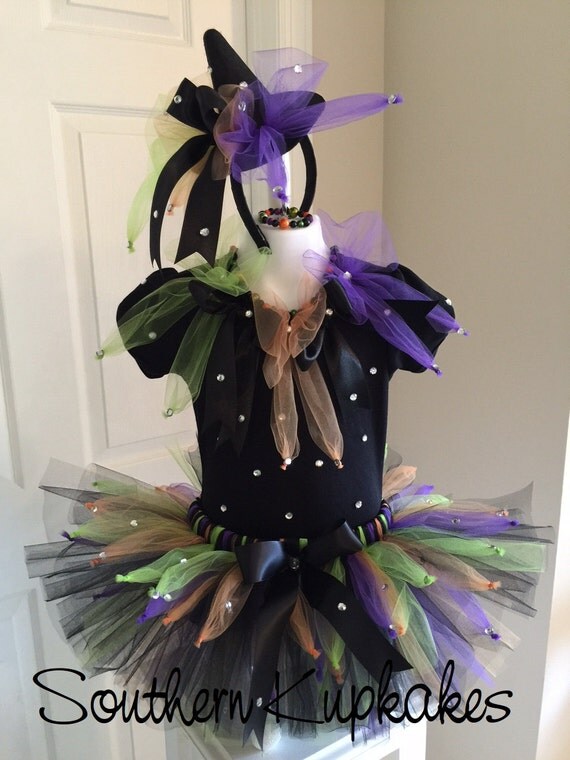 SPARKLE WITCH TuTu Hat Shirt Halloween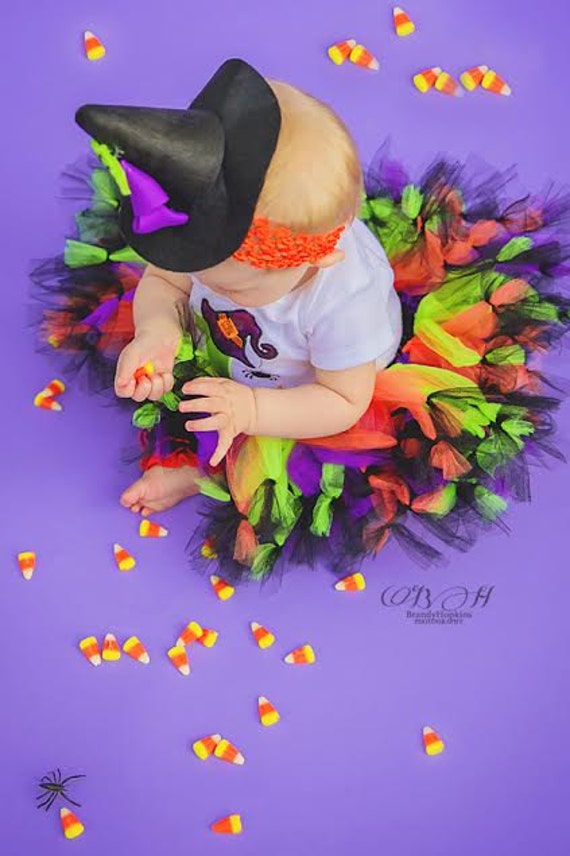 Girls Witch Costume

If you need a witch's hat or any other unique Halloween accessories, just click on the Etsy banner below and be treated to a wonderful selection of handmade and vintage items.

Story Book Witch Costume
This charming non-traditional and non-scary witch costume might be just what you're looking for.  It has delightful green stripes, orange rick rack, ruffles, and faux tatters.  There's even a little black cat on her apron.  She will enjoy wearing this for Halloween.
More Delightful Witch Costumes
If she likes to play dress up with her costumes after Halloween, these are great for that.  Leave off the witch hat and you have the dress of a peasant girl, a fine lady, or even a princess.  If you're not passing on the costume to someone else, you might as well let your daughter get all the use out of it that she can.  Girls witch costumes for Halloween are great but it's even better if you can get more use out of them.
Wizard of Oz Wicked Witch of The West Costume, Small One Color
Little Princess Child's Pretty Witch Costume, Small
Witch Halloween Costume Girls S (4-6 Years)
Children's Sparkle Witch Light Up Costume Size Toddler (3-4)
Child's Twinkle Witch Costume with Fiber Optic Twinkle Skirt – Small
Radiant Witch Costume, Medium
Big Girls' Spiderina Witch Costume Medium (7-8)
Pretty Twinkle Witch Kids Costume
Forum Novelties Candy Corn Witch Costume, Child's Small
Disguise Tutu'riffic Whimsy Witch Girls Costume, Medium (7-8)
Disguise 88672L Hello Kitty Witch Classic Costume, Small (4-6x)
InCharacter Costumes Charmed Witch Costume, Size 10/Large
Children's Trick or Treat Costume Size Small (4-6)
InCharacter Costumes Baby Girls' Wee Witch Costume, Black/Fuchsia, Medium
Girls Witch Costumes for Halloween
Check out these adorable girls witch costumes from HalloweenCostumes.com. I've given you costumes from a few online retailers because Halloween costumes sell out quickly as it gets close to the holiday. If one merchant is out, you can try another one. Shop early for the best selection!
Darling LIttle Witch

Polka Dot Witch

Emerald Witch Costume

Starry Witch


More Halloween Costume Ideas and Accessories