We love our robots and robots are always a fun costume for Halloween.  Robots have become much more sophisticated and streamlined over the years, but the retro robots are still cool as well.  Are you old enough to remember the Rock'em Sock'em robots boxing in the ring?  They come in red and blue.  The retro robot is cute with all the gears showing in its tummy.  This is typical of retro robots, with knobs and gauges designed to make the robot look much more complicated than it really is.  Robot costumes appeal to kids especially, and we have some choices here that they'll love!  From toddlers to the "big kids", we have a robot costume for everyone!
Don't forget to check out Halloween Robot Costume accessories such as hats, wigs, and masks.  You'll find these by scrolling down to the end of this post.
Halloween Robot Costumes for Kids and Adults
Retro Robot Costume

Robot Kids Costume

Rock'em Sock'em Red Robot Costume

Rock'em Sock'em Blue Robot Costume

Kids Retro Robot Costume

Cleatus Fox Sports Robot Kids

Kids Classic Atom Robot Costume

More Robot Costumes for Kids and Adults
Here's a few different costumes from HalloweenCostumes.com.  I've included a variety of online Halloween merchants to give you a wider selection.
Roscoe the Robot Costume

Adult Robot Costume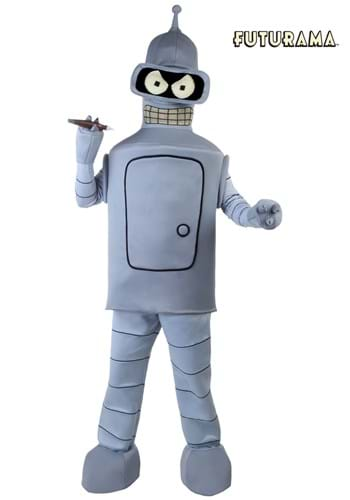 Adult Bender Costume

Deluxe Sassy Fembot Costume

Robot Halloween Costumes from Amazon
Amazon has a pretty good selection of robot Halloween costumes for kids and adults.  You'll see some duplicates here from some of the other online Halloween merchants.  This will enable you to compare some prices and decide who has the best deal.  The futuristic looking morphsuits are new and look great!  Make sure you have the accessories you need as this is what really rounds out a costume.  Love the silvery tinsel wig.  Perfect for a robot!
Forum Outta Space Female Robot Costume, Gray, One Size

Male Robot Adult Halloween Costume

Morphsuits MorphKids Android Robot Childrens Costume

Women's Digital Printing Mechanical Robot Pants Leggings

Men's Robotic Second Skin Costume Mask Concealed Fly Under Chin

Child's Robot Halloween Costume (Size: Small 4-6)

Adult Robot (Standard) Silver in Color

Robot Pete Shuffle Bot Party Rock Anthem Costume, Multi, Standard

Wall-E – Size: Up to size 6

Forum Novelties Children's Costume Robot

Women's Kaijyuu Robot Adult Sized Costumes, Grey/Silver

Rosalie the Robot Kids Costume – X-Small

Doctor Who Cyberman Vacuform Mask

Rubie's Costume Platinum Tinsel Wig, Silver, One Size

XCOSER Cute White Robot Plush Hat Cap Accessories for Cosplay

Morris Costumes No Face Chrome

Elope Kid's Robotman

Blank Male Chrome Mask Costume Accessory

More Halloween Costume Ideas and Accessories