You have found the best list of his and hers Beetlejuice couples costumes. See all the Beetlejuice costume ideas below and maybe even choose other characters from the movie for a group costume.
Beetlejuice costumes for him and her are a great idea for couples costumes this year. Goth never goes out of style and this character has style in spades.
If you were under the impression that Betelgeuse is a star, then you are correct in more ways than one. In 1988, Michael Keaton portrayed a ghost named Beetlejuice in an unforgettable and humorous, and yes, even somewhat heartwarming movie experience.
Because of the popularity of the film, Beetlejuice has become a name that immediately draws up a black and white striped image in our minds.
His and Hers Beetlejuice Couples Costumes
When you walk into a party or go out trick or treating no one will ask "who are you supposed to be?" The most likely reaction will be "Beetlejuice, Beetlejuice, Beetlej…" and a grin.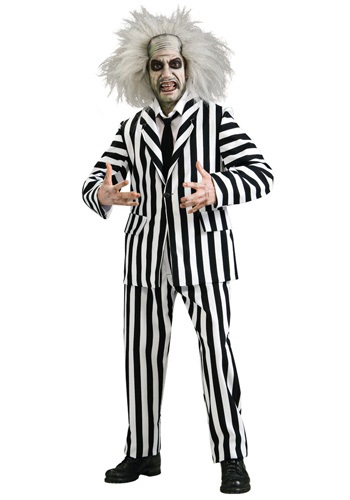 Grand Heritage Beetlejuice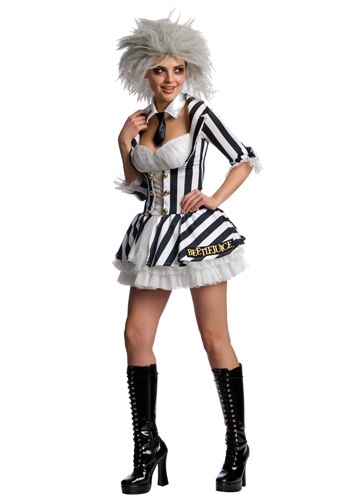 Sexy Beetlejuice Costume

Fans of the Beetlejuice movie will love any of these Beetlejuice couples costumes. Couples will have a great time at the party when they show up dressed as any of the characters of the movie.
Ghost Bride and Groom Couples Costumes
Here you have the ghost bride and groom that haunt their own farmhouse. They want to get rid of the bio-hazards "living" in their home. If you loved Geena Davis and Alec Baldwin as Barbara and Adam Maitland, you might go as the dead bride and groom, which you will find below. You could have a double date by adding this couples to your Beetlejuice couples costumes ideas.
Marry Me Dead
Dead Groom Costume
Lydia Deetz – Goth Girl
Goth girl is such a fun character. The color combination options are gorgeous. Basic Black and White, then add nearly anything you like. She can be steam punk or skeleton, whatever you choose it will be epic! If you want to go out as a group you can add this costume to your Beetlejuice couples costumes ideas.
Goth Prom Queen
Girls Skeleton Cute
Drama Queens Child
Gothic Rag Doll
Skeleton Girl Child
Goth School Girl
More Halloween Costume Ideas and Accessories