If you are a fan of The Nightmare Before Christmas you will love these Jack Skellington Halloween Costumes and makeup. There are a few different versions. Just choose what you want and have fun!
When Tim Burton came up with and produced this story he had another hit on his hands.
Thanks to director Henry Selick, we have this great pinstripe look for Jack Skellington. The suit was originally all black.
So you have decided to dress as the Pumpkin King for Halloween. This Jack Skellington Halloween costume comes with the pinstripe jacket, ascot, and bowtie, as well as the character mask.
For even more fun add Sally for a cute couples costume and a night out.
Jack Skellington Halloween Costume with r without the Mask
When you go out the Halloween party or any other costume event, Jack Skellington will never be mistaken for anyone else. Make sure you get some black pants and shoes to finish this costume properly. The costume without the mask comes with the ascot, pinstripe jacket and bow tie. You will want to add some makeup and even some white gloves to finish off this look.
Jack Skellington Adult Halloween Costume

Disney Nightmare Before Classic Costume

&
More Jack Skellington Costumes
I have found more Jack Skellington Halloween costumes from more merchants so that you can check them all for availability, pricing, and shipping options.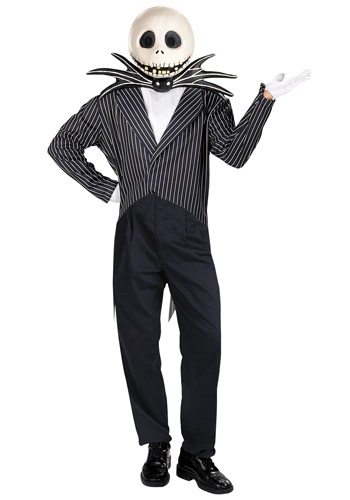 Adult Jack Skellington Costume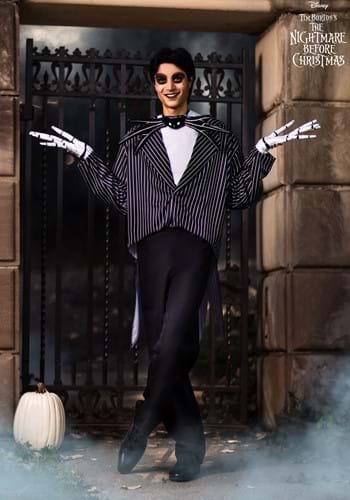 Mens Jack Skellington Costume

Prestige Infant Jack Skellington Costume

Jack Skellington Accessory Kit

Deluxe Scary Jack Skellington Costume

Jack Skellington Prestige Baby Costume

Nightmare Before Christmas Sally
Are you interested in adorable couples costumes from The Nightmare Before Christmas movie? Grab your girl and bring her along as Sally. She is the obvious perfect match to the Jack Skellington Halloween costume.
The Nightmare Before Christmas Sexy Sally Adult Costume

The Nightmare Before Christmas Sally Teen Costume

More Halloween Costume Ideas and Accessories