Kids Zombie Navy Seal Costume. A truly elite force of Zombie soldiers created by our government in top secret has been released from the lab due to unknown circumstances!
That's just one zombie story your son can dream up when wearing this kids Zombie Navy Seal costume for Halloween. Allow your sons imagination to run zombie wild this year for Halloween! He will love this awesome children's zombie Apocalypse Halloween costume.
Any boy can dress up as a zombie Navy Seal this year for Halloween. All he needs is a zombie soldier costume kit. These costume kits includes everything your son would need to dress up for Halloween.
Kids Zombie Navy Seal Costume
This costume is for sale from two sources below, allowing you the chance to comparison shop for the best deal! Before you order, check the price at both sites.
Zombie Team 6 Costume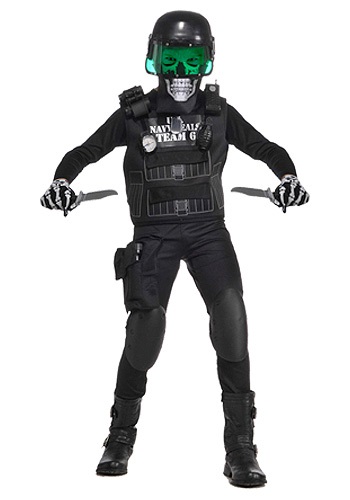 Zombie Navy Seal Costume

Ask your son if he would like this Zombie Navy Seal costume and chances are good that he will say yes! Zomibes and combined with the Nations elite commando soldiers in this top rated Navy Seal Zombie costume for kids.
100% polyester
Black jumpsuit
Vest with faux pockets and "U.S. Navy Seals Team " printed on it
Knee pads
Black bandana with a skull printed on it
Plastic helmet with green visor
Plastic grenade, two knives, binoculars, a cell phone, and a compass
Grab Some Black Combat Boots for your Costume
Most kids don't own black combat boots already. So, I have found a few choices in case you want to make the costume look more authentic.
Black Military Combat Boots for Kids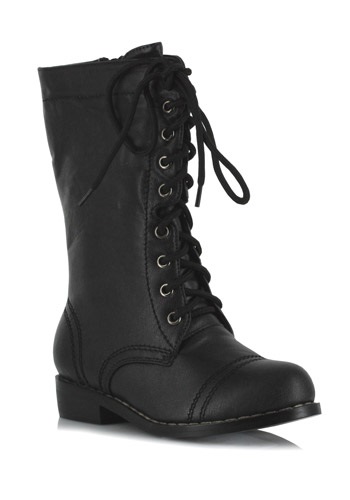 Kids Black Military Boots

More Military and Army Costumes for Kids
Kids soldier or warrior Halloween costumes. If your son wants to dress up as a soldier for Halloween, these are the perfect costume ideas. Click the images to learn more details about each costume kit.
Deluxe Child Camo Trooper Halloween

Spirit Boys' Delta Force Soldier

Foot Soldier Classic Muscle Kids

Recon Expedition Boys Costume

Military Officer Set Child Costume

The Winter Soldier Deluxe Costume

More Kids Zombie Halloween Costumes
Looking for a bloody zombie Halloween costume for kids? Here are some of the best sellers for kids zombie Halloween costumes.
Skeleton Zombie Costume

Toys Zombie Hunter

Child's Zombie Robe Costume

Punk Zombie Child Costume

Zombie Skate Punk Child Costume

Zombie Kids Costume

Blackest Night Zombie Batman Costume

Blackest Night Zombie Robin Costume

More Halloween Costume Ideas and Accessories