Ladies KISS Demon Halloween Costumes.
This super cute KISS secret wishes costume lets you play the demon in a super sexy style! This costume kit includes a black mini dress, studded-look belt, and sleevelettes with a flair, the shoes are not included.
Form fitting dress is available in sizes xs -0 to 2, small -2 to 6, medium -6 to 10, and large -10 to 14.
This adorable costume is officially licensed with the band KISS. Wear it to a costume party. Dress up with friends as the rock band KISS.
All members of the band have cute and sexy costume kits available. Check below for the other band member costumes. KISS costumes make great group costume ideas.
Ladies KISS Halloween Costumes
Grab your friends and dress up as the rock band KISS for Halloween. Here are cute and adorable KISS costumes for Halloween in women sizes and styles. Boots not included! You can buy those below.
Kiss The Demon

Kiss Catman

Kiss Spaceman

Kiss The Starchild

KISS Halloween Costume Boots
Here are the costume boots that match the Ladies KISS Demon Halloween costumes and other KISS band member Halloween costumes above. These are needed to complete the full look as in the costume images above.
Demon Boots

Catman Boots

Spaceman Boots

Starchild Boots

Do You Like To Shop For Lower Prices?
I sure do! That's why I found these cute KISS costumes for Halloween from another retailer for you. Now you can shop for the best price or in case they were sold out above. You can check here to see if they have the costumes.
Sexy KISS Demon Costume

Sexy KISS Catman Costume

Sexy KISS Spaceman Costume

KISS Rock the Nation Demon Boots

KISS Rock the Nation Catman Boots

KISS Rock the Nation Spaceman Boots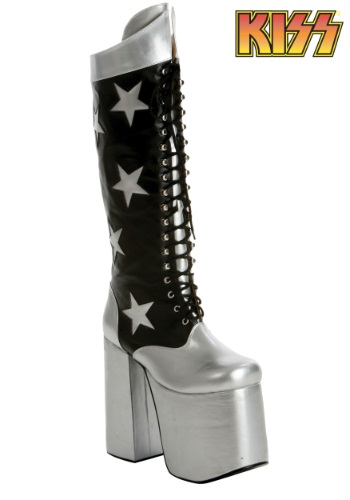 KISS Rock the Nation Starchild Boots

More Halloween Costume Ideas and Accessories