Morphsuits for Halloween
Well, here's something different for Halloween. Morphsuits and Spandex bodysuits for Halloween is a costume idea with a lot of possibilities! There are themed morphsuits such as American flag or several versions of a skeleton including a glow-in-the-dark one. There's a suit that looks like you've been skinned and your muscles are exposed. That one could be rather shocking for Halloween!  Then there's a tuxedo and a pin stripe gangster suit.  Some of these costumes are called "second skin."
==>>In a hurry?  Go to kids morphsuits on Amazon here!
Morphsuits are body hugging Lycra or Spandex.  Even your face and head are covered.  You can breathe through it and even drink through it and see out of it, but no one can see you.  Choose from tie dye, leopard print, or checks.  With a Morphsuit you can be a little green alien if you choose.  Morphsuits make some of the best scary clown costumes!
&
Morphsuit  and Spandex Bodysuits for Halloween
Here is a great selection of morphsuits for Halloween from Costumes4Less.com and BuyCostumes.com!  There are morphsuits with beating hearts, an incredibly creepy clown, and some morphsuits for kids.  These are really fun costumes!  Shop early for the best selection.  You may see some duplicates on the page.  They are from different merchants and provided so you can shop around.
Clown Morphsuit

Digital Dudz Beating Heart Muscle Morphsuit

Digital Dudz Beating Heart Zombie Morphsuit

Witch Morphsuit

Second Skin Halloween Costumes
This group of second skin Halloween costumes are great!  Choose from a hang man, camo, a mime, mummy, sky, or a crash dummy.  These are unique costumes that will be a hit for Halloween.  This is a great selection of morphsuits and Spandex bodysuits for Halloween from HalloweenCostumes.com.  Seriously, with a morphsuit and some imagination you can come up with a fantastic costume that no one else will have.
Hangman Second Skiin

Sky Second Skin Suit

Crash Dummy Second Skin

Mummy Second Skin

Mime Second Skin

Adult King Cobra Morphsuit

Adult The Zombie Morphsuit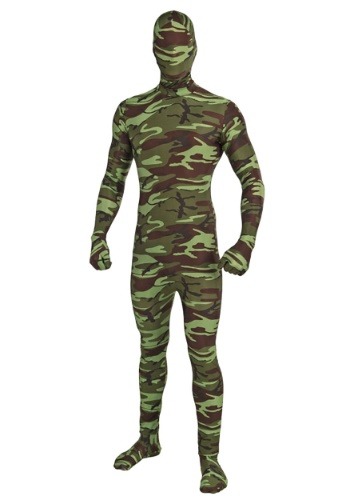 Child Camouflage Second Skin

Adult Grass Second Skin Suit

Darth Maul 2nd Skin Suit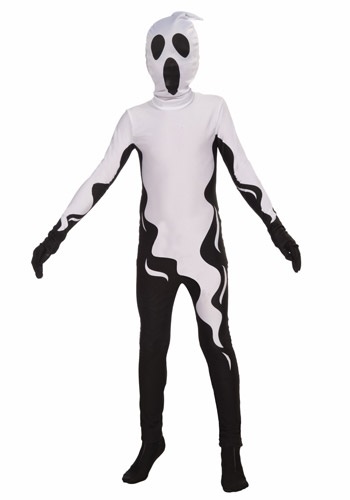 Kids Floating Ghost Skin Suit

Sesame Street Adult Ernie Skin Suit

Morphsuits for Adults and Children for Halloween
Morphsuits come in sizes for adults and children and they come in many different themes.  There are plain colors as well, which would be fun to accessorize.  A plain Morphsuit with a tutu comes to mind.  A plain Morphsuit with a cute kitchen apron.  The black one could be the basis for a cat costume and the white one could be a ghost.  How about a big bodacious hat, heels, a Morphsuit and nothing else?   I'm sure you can think of lots of imaginative ideas for a Morphsuit costume.  A Morphsuit or Spandex bodysuit is a good costume for any age.  Morphsuits aren't just for Halloween.  Look at that patriotic American flag suit.  It would be great for the 4th of July parade, and certainly unique.  Super morphsuits and Spandex bodysuits for Halloween from Amazon!  Morphsuits are a unique costume if you want to stand out from the crowd!
Morphsuits Morphsuit Flag USA,
Morphsuits Premium Muscle
Morphsuits Kids Premium Tuxedo
Morphsuits Premium Gangster
Morphsuits Kids Premium Alien
Morphsuits Premium Tie Dye
Morphsuits Premium Leopard
Morphsuits Premium BW Check
Morphsuits Premium Glow Skeleton
Morphsuits MorphKids Monster The
Adult Skeleton Morphsuit –
White Skeleton Morphsuit |
BlackSunnyDay Lycra Spandex Skeleton
Full Body Spandex Suit
Child's Black Second Skin
Morphsuits Morphsuit Original, Blue,
Child's Green Second Skin
Child's Orange Second Skin
Child's Purple Second Skin
Morphsuits Morphsuit Original, White,
The beautiful product displays on this page were created with Easy Product Displays. Fast, easy, and beautiful! Try it free for 3 days.
More Halloween Costume Ideas and Accessories