Rainbow Dash Costumes for Cosplay and Halloween
We have My Little Pony Rainbow Dash Halloween Costumes for girls and women.  The character of Rainbow Dash pony is a favorite in the My Little Ponies world of Equestria.  She is colorful with her rainbow tail and forelock on a blue background.
There are very cute costumes available in many sizes and prices.  They are mostly for girls but I did find a few things for women.  Women, you might have to get a little more creative if you want to be Rainbow Dash for Halloween, but fortunately there are some cute Rainbow Dash accessories that you can build a costume around.  Don't forget to check out the Rainbow Dash jewelry that would be great with your costume.
Rainbow Dash Halloween and Cosplay Costumes for Girls
Rainbow Dash Tutu  Girls Costume

Custom Made Rainbow Dash Dress

Rainbow Dash  Girls Costume,

Rainbow Dash Tunic Ruffles Wings

Rainbow Dash Girls Fancy Dress

Girls Rainbow Dash Costume
Rainbow Dash My Little Pony

Rainbow Dash Hooded Kigurumi

Chunky Handmade Rainbow Dash Jewelry Sets
What beautiful jewelry for My Little Pony Fans!  These are perfect to go with some of the My Little Pony Rainbow Dash Halloween costumes.  They don't have to be saved for Halloween though.  Wear them any time!  If you have a pony fan with a birthday coming up this jewelry would be perfect!  Christmas is coming too!  To see gorgeous necklaces for the other ponies click here.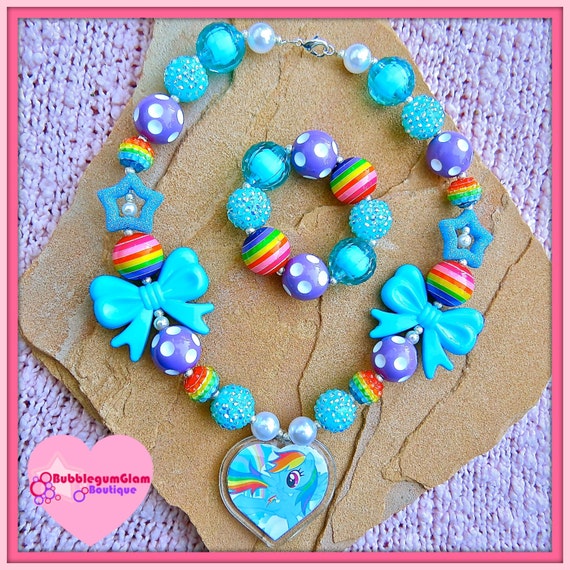 My Little Pony Rainbow Dash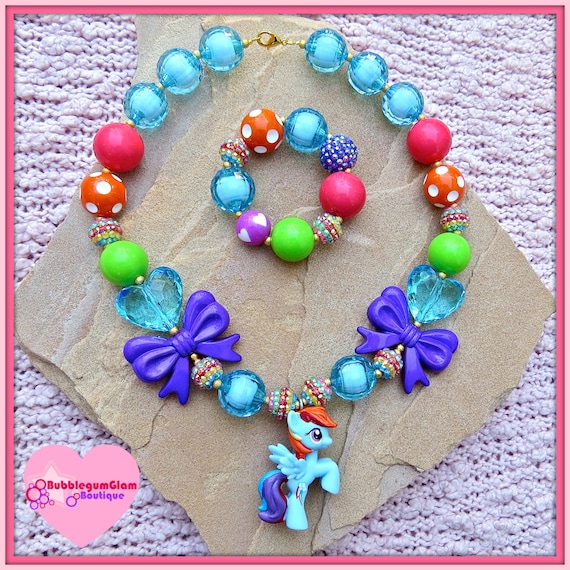 My Little Pony Rainbow Dash

Shop Etsy for unique vintage and handmade items.

My Little Pony Rainbow Dash Halloween Costumes
Rainbow Dash Costumes for Women
You can build a Rainbow Dash costume around these tutus and rainbow socks.
Women's Rainbow Dash

Thigh High Adult Socks

Leg Avenue Primary Rainbow Tutu

Adults Plus Size RAINBOW Tutu

Rainbow Dash Accessories and Jewelry
My Little Pony Rainbow Dash Halloween Costumes may be enhanced by using one or more of these accessories.  These will be especially helpful if you're building your own costume.  Check out the knee socks with wings, a hoodie, pretty rainbow slippers, rainbow wigs, tails and more.  We also have a great selection of cute Rainbow Dash jewelry.  Of course the jewelry can be worn any time, not just for Halloween.
My Little Pony Rainbow Dash Hoodie Hat by elope

Rainbow Dash Knee High Socks with Wings

Rainbow Dash colorful Wings Standard

Rainbow Dash Slippers Child

My Little Pony Deluxe Headband

Pony Tail Rainbow Dash Cosplay

My Little Pony Rainbow Dash Wig

Rainbow Dash Knit Laplander

elope My Little Pony Rainbow Dash Tail

elope My Little Pony Twilight Sparkle Tail

My Little Pony Deluxe Favor Bag

My Little Pony Beaded Bracelet with Heart

Enamel PENDANT on 18 Inch Chain

Silver-Plated Rainbow Dash Pendant

Girl's Silver-Plated Link Bracelet

My Little Pony Girls' Enamel Stud Earrings

My Little Pony Shaker Necklace

Silver-Plated Rainbow Dash Pendant

Rainbow Dash Belly Button Ring

Girls' Fine Rainbow Dash Stud Earrings

Rainbow Dash Tail Pendant Necklace, 18″

Rainbow Dash Necklace – Laser Cut Acrylic

My Little Pony Girl's Silver-Plated Adjustable Ring

Candy-colored Resin Pendant Necklace Statement

More Halloween Costume Ideas and Accessories