Nerd Halloween costumes are pretty fun. Did you ever know someone like this at work or school? Short sleeved shirts, taped glasses, and a pocket protector are hallmarks of the nerd "uniform."  We have all that covered here with nerd Halloween costumes for men, women, kids, and babies.
Nerds may have been geeky and awkward in high school, but remember, they are the smart ones!  Chances are when you run into that nerd later on in life he or she will be the smart, wealthy, handsome, sexy one!  Don't write off that nerd!
We have several great nerd Halloween costumes to choose from on this page.  Get one today!
Mens Nerd Costume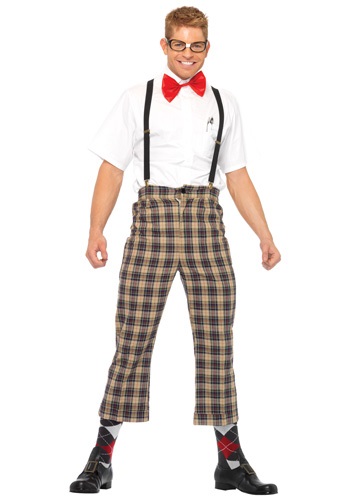 Mens Nerdy Nerd Costume

Classic White Nerd T-Shirt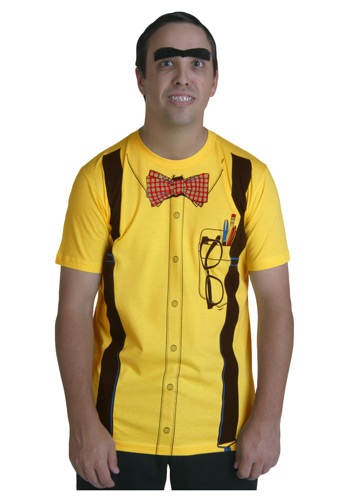 Classic Yellow Nerd T-Shirt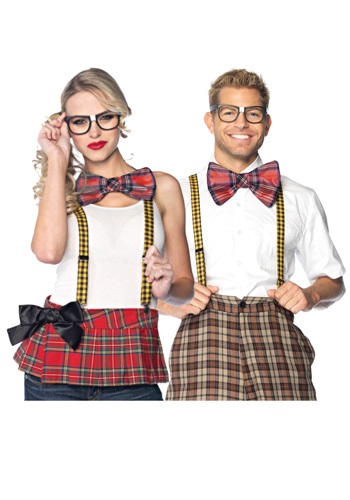 Adult Nerd Accessory Kit

Girls Classroom Nerd Costume

Nursery Nerd Infant Costume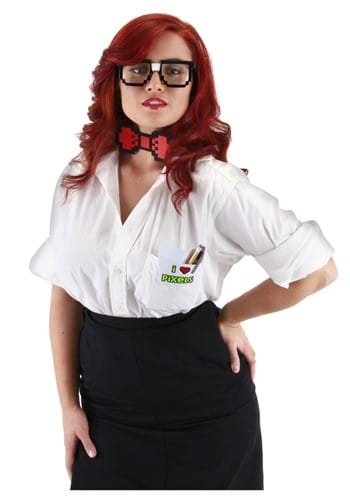 Pixel & Nerd Kit

Mickey Nerd Kit

Domo Nerd Costume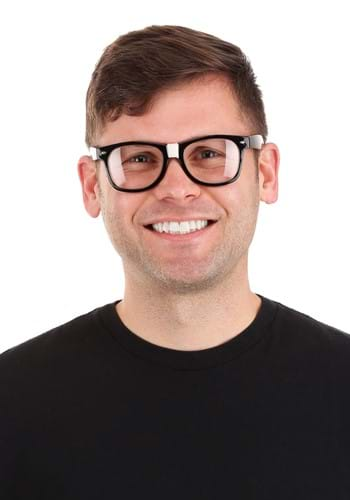 Nerd Glasses

Plus Size Nerd Costume

Adult Nerd Costume Kit

Nerd T-Shirt

When Nerds Dress Up
In case you were wondering what a nerd wears for dress up, check out this animal print Opposuit!  Opposuits are the opposite of a conservative dress suit.  It's a business suit in every way except that the fabric is not black, gray, or blue, but a print not normally thought of as for business attire.  You can have a lot of fun with these with their wonderful wacky prints!  You can also get one with shorts instead of long pants.
The Jag Opposuits Costume by Opposuits

Accessories for Nerd Halloween Costumes
A proper nerd costume is not complete until you've added some suspenders, glasses, or a bow tie.  A wig might be in order too.  Accessories can make your costume more believable.  We have great accessories here for Nerd Halloween Costumes.
Suspender Bowtie Glasses Nerd Costume Halloween

Mens / Womens One Size Suspenders Adjustable (red)

Nerd Glasses, Clear Lenses with Black Frames

Suspenders & Bow Tie Red Combo Pack nerd costume

Cute Nerd Glass Frame with Bow Tie Whiskers Eyewear

Forum Novelties Female Nerd Kit Combo Pack

Men Character Brown Wig

Nerd Polyester One Size Bow Tie

Star Wars Fan-girl Hair Bow, Nerdy

More Halloween Costume Ideas and Accessories